Micro case study of a sustainable university in Germany
Let's look at an example of a highly sustainable university and say what to expect from a joint meeting on Thursday 10.10. Leuphana University is located in Lower Saxony, in the town of Lüneburg, which lies about 40 km from Hamburg. This university is comparable in size to the University of Economics. It has about 10,000 students, four faculties, one of which is also the local "Faculty of Business Administration".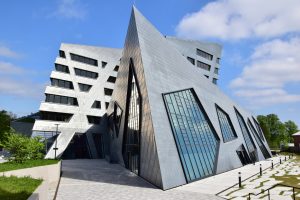 As we already know, a model sustainable university introduces sustainable development into its core functions: teaching, research, collaborating with practice, and its own operations, such as managing its campus, shopping or canteen offerings. Let's see what it looks like here.
The semester in Leuphana does not begin until 14 days, so it is still calm, except for a concentration for new students. Yet, at first glance, certain features of this university are visible, making it one of the most sustainable higher education institutions in Europe and possibly in the world. For example, the university leases its roofs to a company that has installed them with photovoltaics and generates electricity. This is how the school will cover 20% of its consumption. Another source for the production of energy and heat is, for example, biomethane. The campus of the University is so-called "Auto-armes", or poor in cars, but rich in bicycles. A special bus line and bus stop have been set up so that students can conveniently reach the school by public transport. Directly on the campus there is a biotope where the school has bees. During the semester, the local canteen cooks in organic quality and the supply chain places an emphasis on local food suppliers. Leuphana has received several sustainability certifications. It is "family friendly", which is reflected in the fact that you can find a large children's corner in the canteen, which is regularly used by families with children. It is a Fair Trade University, which means, inter alia, that all purchases are made responsibly and the sustainability criteria are emphasized when deciding what to buy.
Since 2001, the school has been carrying out an annual eco-management audit of EMAS and since 2014 it has been a carbon-neutral university, meaning that it can directly or indirectly eliminate its CO2 emissions, which we know contributes to climate change. Sustainability is also strongly reflected in teaching and research. The university has a whole faculty of sustainability that specializes in this issue and is, for example, the most successful of all faculties in terms of publishing and fundraising from third parties. The local FPH is now introducing new training programs such as sustainability accounting. And since 2003, the school has been offering an MBA program focused on sustainability management.
Leuphana has been systematically involved in sustainable development for 22 years. To the above mentioned results it is necessary to add a sustainability strategy, which consists of 1/3 of the overall strategy of the school, a solid position as a sustainability manager since 2002, regular sustainability reporting since 2007 and anchoring sustainability to the institutional framework of the university. a system of collaborators who are responsible for sustainability at each faculty.
So much for inspiration and now let's see what awaits us on Thursday, October 10th, when we meet at 10am to build our vision. What will happen at the meeting. First, we briefly summarize the state of research and divide the great vision into several smaller segments. Then we divide into groups so that we can work out smaller visions in smaller teams. We will not be concerned with the current situation, but with the ideal that we would like to have in 10 years. Finally, we introduce each other and comment on our work.