"I recognized the important role linkbuilding plays in e-shop business," says Jan Prokop
Course with extremely interesting content focused on the alpha omega of modern times – online marketing took place at the Institute of Management of the University of Economics, Prague last year. The lecturer and guarantor of the course was experienced marketing specialist Jan Mareš from the Department of Entrepreneurship. Those interested in this topic have the opportunity to meet him again this year. The course called Inbound Marketing Masterclass will take place again 20.5.2020, presently online.
We would like to offer you a small "taste" of the course. We asked the graduate of last year's course Jan Prokop, Online Marketing Specialists at Aira GROUP and student FBA, about his personal experience and the benefit of the course to his profession.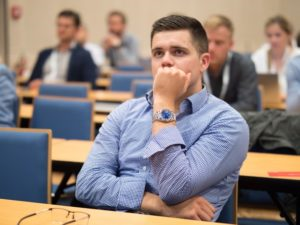 Institute of Management: What's new you learned on the course?
Jan Prokop: "I´ve recognized how important the role of linkbuilding for e-shops and their link strategy plays. I have learned to use tools that measure these indicators, which is very useful when running any site.
Institute of Management: How did this help you in your business?
Jan Prokop: The course motivated us to order articles on various websites, from where we get high-quality traffic. The course helped me expand our marketing mix, which pays off mainly because we get new customers at a low price.
Institute of Management: What would you recommend to other students?
Jan Prokop: After the course, I would recommend to hire a marketing agency that has experience with linkbuilding at least in the beginning. I would definitely recommend the course both the eshop managers and everyone else who owns the website.
Thank you for the interview and we wish you great success in your work and study!
Institute of Management
Editor's note:
The course is suitable for marketing managers responsible for online channels, as well as for entrepreneurs who need to conduct marketing activities themselves. During the course, participants will learn how to manage content creation, improve visibility in search engines, and gain traffic through inbound marketing, linkbuilding, as well as PPC advertising. They'll learn how to turn visitors into customers through email campaigns, and last but not least, how to measure the success of their campaigns.
Kindly follow our courses on link