Inbound marketing masterclass with Jan Mareš
We live more online than off line and the demand on brand communication campaigns is more challenging. Easier than earlier we buy in e-shops and get customers attention to our own brand is more.
Institute of management opens an online marketing course led by Jan Mares, in which you will learn how to manage and optimize PPC campaigns customers and even more how to transfer visitors to customers.
Jan Mareš has been a member of the Department of Business of the University of Economics in Prague since its foundation in 2015. He has been working in online marketing since 2004. In the past, he ran the marketing agency WhiteHat, s.r.o. He specializes in SEO and content marketing.
In pedagogical practice, he focuses on marketing communication for start-ups and helps start-up projects win first customers. He also devotes himself to executive education, where he shares his practical experience on how to improve the performance of corporate websites.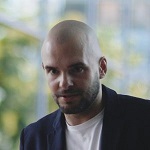 The Inbound marketing masterclass course is suitable for marketing managers responsible for online channels as well as for entrepreneurs who need to conduct marketing activities themselves. During the course, participants will learn to manage content, improve brand visibility in search engines and gain traffic through inbound marketing, linkbuilding and PPC advertising. They will learn the art of successful email campaigns and, last but not least, how to measure the performance of their campaigns.
Follow our courses on link.